Flat Logo Reveal Animation
This is another logo and text reveal animation that I made in about 2 hours or so. This one is a lot more fluid and not as choppy as the last one.
Material Logo Reveal Animation
This animation is an intro you can use for videos or other presentations. To change it, just open the file, go to slide 2, then change the text (if you want it) and the green icon with your own logo. Then, if you have Power Point 2010+ you can export the presentation as a video. (The pic on the bottom show the "behind the scenes" of the animation. Feel free to change it to your heart's desire!)
Material Design Animations
This animation is an interactive slideshow with separate slides of resources and ideas for animations. Some are like a printer, a loader (sort of like the windows 8 loader) an other animations.
Pop Machine
I was a bit bored, so I made an interactive vending machine. Just download the file and open it in Power Point. Then start the slide show.
Quiz Template
This is a simple quiz template which works with Power Point 2007+
When opened, play the slideshow from the beginning .
Powered by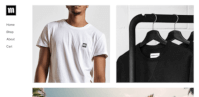 Create your own unique website with customizable templates.